Attended
Kim Rae Won
Lee Min Ho
Seolhyun
Jung Jin Young
Joo Da Young
Kim Bum
AOA
Park Bo Young
Kim Woo Bin
On Joo Wan
Bae Suzy
Park Shin Hye
Jung Il Woo
Lee Ji Ah
Kim Hee Sun
Ahn Jae Hyun
Kang Sora
Choi Jin Hyuk
Cho Seong Ha
CNBLUE's Minhyuk and Jonghyun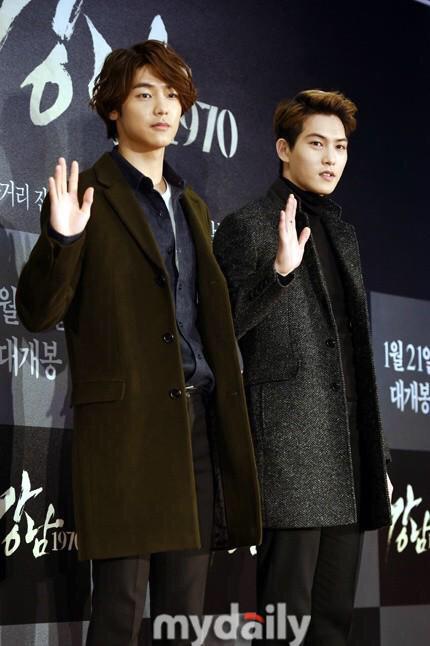 Kim Ji Hoon
Sung Hoon
Bae Soo bin
Park Kyung Lim
More
Lee Min Ho Will Pick Up Trash in Gangnam with 500 Audience Members If Film Hits 5 Million
The cast of Gangnam 1970 made bold official promises.
Gangnam 1970 launched the global premiere screening event on January 20 at the Megabox theater in COEX, gathering great response from the audience.
The global premiere took place in the form of a counter-junket attended by reporters from 13 countries that have purchased or confirmed the film′s premiere. For the first time for a Korean film, the reporters from foreign media outlets visited Korea to carry out interviews, increasing anticipation for the global premiere of Gangnam 1970.
The main and supporting cast members of Gangnam 1970, including Lee Min Ho, Kim Rae Won, Jung Jin Young, AOA's Seolhyun, Lee Yeon Du, Han Jae Young, Yoo Seung Mok, Um Hyo Seop, Jung Ho Bin, Choi Jin Ho, Heo Sung Min, Kim Yoo Yeon and director Yoo Ha thanked the audience members through the stage greeting.
Director Yoo Ha said, "This film is a film with a message. I hope that you can feel many things by watching it."
Lee Min Ho stated, "I would like to steal the hearts of men through this film. I hope that the male audience members will enjoy the movie."
Kim Rae Won said, "I think it will be a great movie if you enjoy it comfortably. Enjoy watching and please spread good words to those around you."
Jung Jin Young stated, "Gangnam 1970 is the first 19-plus movie that I've done in a long time. That's how intense it is. I think that's the strength of our movie. Many stories are included in it."
Lastly, Seolhyun said, "I prepared hard since this is my first film. I hope you can see it in a positive light and enjoy watching."
About the official promise, Lee Min Ho stated, "I would like to change my official promise since I don't have a driver's license for motorcycles. If the movie hits five million, I will select 500 audience members and pick up trash in Gangnam along with the director," bringing out a round of applause from the audience.
Jung Jin Young, who operates a dry cleaner's in the film, said, "If the movie hits five million, I will iron the clothes of 500 audience members," and Kim Rae Won, who previously made a promise to take a special picture with his on-screen rival Jo Jae Hyun in the SBS drama Punch said, "I've already come to a mutual agreement with Jo Jae Hyun sunbae."
Seolhyun shared, "I've already prepared Sun Hye's costumes to dance toLike A Cat when the film hits one million."
The global premiere event was attended by numerous Korean celebrities, including Kim Woo Bin, Kim Hee Sun, miss A's Suzy, Park Bo Young, Ahn Jae Hyeon, Lee Jia, Park Kyung Rim, Kim Bum, Jung Il Woo, Ji Jin Hee, Choi Jin Hyuk, Choi Jung Won, Jo Sung Ha, Kim Hye Sun, Kim Min Seo, Choi Tae Jun, Im Ju Hwan, Oh Ju Wan, CN Bue's Lee Jong Hyun and Kang Min Hyuk, G.Na, AOA, Bae Soo Bin, Kim Ji Hoon, Hong Seung Jin, Royal Pirates, Ju Da Young, Han Da Eun and more. A number of foreign celebrities also graced the event, including the Chinese star couple Julian Cheung and Anita Yuen.
Gangnam 1970 depicting the story of two men's desire, friendship and betrayl surrounding Gangnam during the 1970's when Seoul was going through development is the final piece of director Yoo Ha's street trilogy, starring Lee Min Ho, Kim Rae Won, Jung Jin Young, Seolhyun, Yoo Seung Mok, Kim Ji Soo and more. The film premieres on January 21.
Photo credit: Newsen
Source: enewsworld